In this village in Italy....

My Husband's family, from his maternal grandmother's side, came from
this place
.
Every first Sunday in June those now living in America still celebrate with a Mass and luncheon. The legacy of these families and their names are now becoming familiar to me. My children, as they make their 1st Holy Communions participate in crowning our statue replicating the one in Italy.

I always wonder what it will be like in years to come as the originators pass away? Will the next generation honor these traditions and more importantly this faith in Mary Our Mother? Will some of the Mass still be prayed in Italian? Will the stories live on?

Is it coincidence that today my rose bush has burst into life? The roses renew, they spring forth from buds, they delight with beauty....it's a good sign!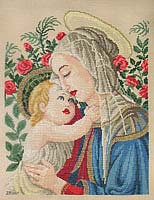 Madonna Del Roseto, pray for us.