Padre Pio on birth control and abortion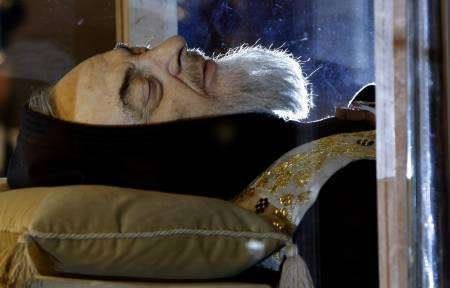 Here lies a saint that
God chose to make an example of, to get our attention
. When alive, 40 years ago, this saint bore the wounds of Christ, the stigmata.
St. Pio defended the controversial encyclical, HUMANAE VITAE, praising its "lofty teachings" and "eternal truths."
An aspect of the document often overlooked today is its grim warning that governments might "impose" contraceptive methods on citizens.
In the light of the Humanae Vitae's other accurate predictions, are mandatory birth control and abortion on the horizon for America?
by Frank M. Rega, S.F.O.
St. Padre Pio demonstrated the depth of his love and loyalty to the Church when he publicly praised and defended Pope Paul VI for his encyclical Humanae Vitae, "Of Human Life." 1 Upon its release in the summer of 1968, a torrent of vilification and disobedience was unleashed upon the Pontiff from within the Church, as well as mockery and scorn from without. Such open rebellion against Peter's successor was unprecedented, and yet he had done nothing more than his solemn duty to uphold the infallible, magisterial teaching of Catholicism against unnatural methods of birth control.
Click this --->
http://www.sanpadrepio.com/piolife.htm
link to read more.