What Would Mary Wear? Our Lady is always modest.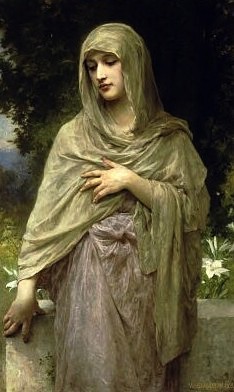 At Fatima, Our Lady's promised sign was viewed, filmed and documented in newspapers. There were 70,000 present.
She told the children that Our Lord was offended by new fashions.
When Our Lady appears she is always feminine, celebrating her modesty and covering what is sacred.
Our God created us male and female
. He designed our differences to be valued, not blurred.

Let us also consider that how we dress can make it difficult for men not to sin, that we are called not to lead others into sin, that we are called to be charitable and so here is a beautiful prayer asking St. Maria Goretti, who chose death over impurity, for her intercession...
Dear Saint Maria Goretti! The world teaches that we must please others in order to be popular. Conscience demands that I please God more than one who asks an evil thing in the name of false love. Teach me by your example to instill into others a real respect for modesty and purity. Through your powerful intercession, help me to make all occasions useful for helping others to become spiritually stronger. Grant that others may see in me reason to change their ways, if that be necessary, and that I may have the courage to resist any temptation to sinful conduct. Let others be led closer to Jesus and Mary by my example.

Oh Little Saint who wanted to be popular only with your Divine Master and His Blessed Mother, help me to imitate you. Amen.
Our Father, Hail Mary, Glory be to the Father, etc.

St. Maria Goretti, pray for us!